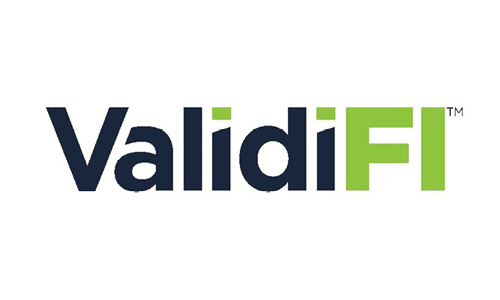 ---
Can open finance positively impact the traditional financial services sector? ValidiFI has proven it can.
ValidiFI is a technology company that delivers data solutions to business and financial service providers. Simply: through a combination of technology and strategic partnerships, ValidiFI creates better ways to validate and analyze customer information.
ValidiFI's data—which is sourced from banks, payment processors, financial platforms, and hundreds of thousands of businesses—comprises the most comprehensive lake of financial information in the industry. Financial services firms harness the data to improve account openings, credit decisions, payment processing, fraud detection, and risk segmentation. Businesses of every size—from new startups to public companies—use ValidiFI solutions to increase sales and facilitate payments.
Take managing underwriting and risk, for example.
It is becoming increasingly difficult for financial institutions to properly segment their applicants while identifying who will be a good and bad customer. ValidiFI's alternative data solutions help firms identify and segment the risk of applicants based on their employment, income, and bank data. ValidiFI's Payment Instrument (PI) Risk Score analyzes thousands of attributes to enhance the financial profile of the consumer, helping to mitigate fraud, reduce defaults, and reduce returns.
ValidiFI's tools also help financial services firms stay compliant with government and organizational regulations. Using Bank Account Validation (BAV), firms can adhere to the Consumer Financial Protection Bureau's payment provisions. ValidiFI also offers comprehensive Account Validation services to help maintain compliance with Nacha's WEB Debit Rule.
According to ValidiFI, accessing a greater range of data is essential as the United States and Canada climb their way out of the COVID-19 health and economic crisis. ValidiFI said companies that are able to adapt to change by utilizing alternative underwriting methods and data, for example, will recover and advance more successfully.
ValidiFI joined FDATA North America in March 2021.
President and Chief Operating Officer Jesse Berger said, "Access and insight into the rapidly changing regulatory environment for open banking and finance is crucial. It is vital for the development of innovative financial data and technology products like those offered by ValidiFI and other FDATA members. With FDATA's support, members are ensuring financial products give consumers and businesses more choices and competitive service offerings."